From Meade County Messenger Wednesday, January 25, 1984, page 2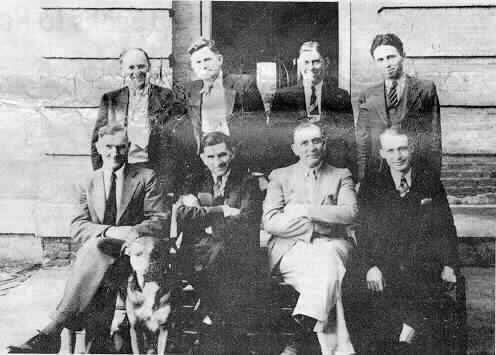 Front row left to right: Deputy Sheriff Walter Lee Scott, Ned Brown's dog, "Brownie", Sheriff Ned Brown, County Judge James R. "Jim" Miller, County Attorney Milton Whitworth
Meade County Officials -- 1935
By Georgia Franke
Mrs. Carl (Ruby Miller) Lamar of Lexington has the above picture of the 1935 Meade County officials. Her father was county judge at that time.
The picture was taken at the side entrance to the old court house. The courthouse was destroyed during the April 3, 1974 tornado.
With help from Mrs. Betty Woolfolk, family members of the officials and Roy Neafus (who is pictured) and his wife Frances, I have been able to get them all identified. Even though I was quite young in 1935, most of these officials remained in office several years and I remember them very well.
Front row seated, left to right:
Walter Scott was Deputy Sheriff and he was married to Ruth Fontaine Scott. They had seven children. They lived in the house where James Willie and Zula Bondurant were living when it was destroyed during the 1974 tornado. The house stood on the knoll above where the First Baptist parsonage is now. Mr. Scott died in March 1937 at the age of 51, before he finished his term as deputy sheriff. His son "Bill" finished out his term. (I knew Mrs. Ruth Scott very well). She died March 4, 1976. The oldest son, Walter C. Scott and his wife Delean Brown Scott live on the Scott homeplace in the Stith Valley community. At the age of 75, his hobbies are roller skating and walking. One daughter and family have built a home near them on the farm. Rena Lou Scott Parks is the oldest daughter and lives in Elizabethtown. Jessie Virginia Scott Williams is married to Frank Williams (good musician) and they live in Elizabethtown. Mary Scott Foote and her husband Gerard Foote live in Irvington. William "Bill" Scott and wife Harriet Fast Scott live in Arlington, Virginia. They spent many years in Russia during his Air Force career. Jack Scott and his wife Minnie Alice Bondurant Scott live in Elizabethtown. They also own a home in Meade County. Minnie Alice is a licensed Methodist minister and is a chaplain at the Methodist Evangelical Hospital in Louisville. The youngest son, Jimmy and his wife Mildred Eurd Scott live in Madison, Indiana. Jimmy is a CPA and has done work for several Meade countians.
---
Ned Brown was sheriff when the photo was taken - 1934 - 1938. Prior to being sheriff, he was deputy sheriff - 1930 - 34. He became county judge in 1938 and remained in that office until 1950. He was married to Nell Heavrin Brown and they had seven children. Their oldest son, Eward is deceased, and his widow Mary Gibson Brown lives in Irvington; Garland and his wife Elizabeth Woolfolk Brown live in the Milan community; Audre Brown Broussard (who gave me this information) lives near Brandenburg; Anne Brown Pace and her husband Wayne Pace live near Brandenburg; Patsy Brown Foushee and her husband Charles live in Rolling Heights; Susan Brown Giltner lives in Louisville; Tony and his wife Amanda Wheatly Brown live in the Johnstown community.
The Browns lived in the Pusey homeplace that stood on the site where the new courthouse is now. The house was destroyed during the 1974 tornado. Mr. Brown died at the age of 85 on January 18, 1974. (Audrey mentioned to me that it was ironic that I would call her ten years later on January 18). Mrs. Brown preceded him in death on December 5, 1968 at the age of 65. Ned Brown was a WWI Navy veteran. His younger brother John Brown is 94 years old and lives at Medco.
---
"Brownie", Ned Brown's faithful dog, poses as the courthouse mascot. Mr. Brown walked to work and back, and home to lunch and back every day. "Brownie" walked with him every step of the way. The noon whistle wasn't needed because "Brownie" having a built-in clock, made his daily trip down the hall at the same time as if to say "it's lunch time". When judge Brown was on the bench, "Brownie" was always there beside him. One day the faithful dog was a little late - he walked up to the bench to his usual spot and looked up to find the circuit judge sitting on the bench instead of his master. He was so "dog embarrassed" he actually crawled down the isle on his belly. Judge Brown enjoyed movies at the New Ace Theatre (now Buck's Furniture warehouse). "Brownie" liked going along and they preferred certain seats. One day a lady was forced to move, when she accidentally sat in his regular seat. Mr. Joe Wollfolk, who operated the movies, had the unpleasant duty of asking the lady to move.
"Brownie" had character. He lived 16 years. Audrey remembered in speaking of "Brownie", "We all remember him as part of the family - with his remarkable almost human nature."
---
County Judge James R. "Jim" Miller was married to Pearl Dowell Miller. During the years he held office, they lived in the house on the west downtown hill (where Mr. and Mrs. James E. "Tickle" Thompson lived when it was destroyed during the 1974 tornado) next to the Casperke building (now where Drifter's Cove is). Prior to his taking office, he ran against Judge William A. Baskett. Judge Baskett won, but he died before his term was over. James R. Miller took his place and was reelected for a second term. Because of ill health, he did not run again and the family moved to the farm. They had four children:
Ruby Miller Lamar is married to Dr. Carl Lamar and they live in Lexington and are retired. Ruby worked from REA here for many years. Her husband, Carl, was Meade County agricultural teacher for several years. He and Jack Kunnecke, of Muldraugh, were instrumental in getting the Lamar- Kunnecke Vocational School built here in Brandenburg.
One son, Lamar Miller, died in 1962. He and his wife, Bessie "Nan" Harrington Miller, built their home and Bessie still lives there on part of the former Jim Miller farm. Their son, Jimmie Miller and wife, Mona Trent Miller, built a home near her on the farm after the 1974 tornado destroyed their home in Brandenburg on High Street.
Bill Miller and his wife, Melva Dean, lived in Alaska many years and he was a manager in the REA. He retired there, moved to Boyce, Louisiana, and built a home where they now live.
Dorothy "Pig" Miller Hallett lives in California. She has one son, Chris Buckley, who teaches English and art at Murray State University.
The Millers sold the farm home, on Highway 79 (Irvington Road), where they had lived for many years to Mr. and Mrs. Charles Lee Morgan. The Morgans built their home next to the Miller homeplace. The Millers bought the house in town (where Mr. and Mrs. Johnny (Deborah Hager) Brunington now live) on High Street. The house was at that time owned by Mr. and Mrs. Ray (Marian Williams) Bennett. Ray had built the house. Mr. Miller became ill before they moved, was hospitalized and died December 1958.
Mrs. Miller lived on High Street several years until her health failed. She went to live with Ruby in Lexington. Mrs. Miller was affectionately called "Go" by her family and close friends, having been given this nickname by her oldest grandson, Jimmy, when he was too young to say "grandma". She died in June 1980. Mr. Roger Dowell of the Garrett community is a brother to Mrs. Miller.
The Morgans sold the farm to James "Bud" Wilson. Bud sold the farm house to Mr. and Mrs. Eugene (Bessie) Meeks. Mr. Meeks passed away and Mrs. Meeks still has the home. Bud and his wife, Isabelle, built their new home on the farmland.
Mr. and Mrs. Larry Stull bought the Charles Lee Morgan home a few years after Mr. Morgan died. His wife, Evelyn, went back to Louisiana to live.
---
County Attorney Milton Whitworth and his wife Christine built the house where McGhee-Humphrey-Davis Realtors on East Broadway are now. I can remember as a child how modern and beautifully different it was at that time. Mr. John and Mrs. Daisy Burnett lived there for years. The Whitworths moved to Elizabethtown and Mr. Whitworth died sometime later in Florida. (Continued next week)