Reference: "The History of Meade County, Kentucky 1824-1991" by Laura Young Brown and Marie Coleman, 1991, McDowell Publications; order: Marie Coleman 320 High Street Brandenburg, Ky 40108 note: The text in the original is all capitals which made scanning somewhat error prone.

Entries reproduced here for easy reference:

1. JOHN STANLEY, SR. AND ANNA MAE (SMITH) FISHER by AUDREY MAE (FISHER) STITH page 331

2. THOMAS J. AND AUDREY MAE (FISHER) STITH by AUDREY MAE (FISHER) STITH page 332

3. WILLIAM ALLEN, SR. AND LENA MARION (DRURY) STITH by AUDREY MAE (FISHER) STITH page 334

4. MEADE COUNTY STITHS AND STITH VALLEY by HAROLD STITH page 335


GENEALOGY 331

JOHN STANLEY, SR. AND ANNA MAE (SMITH) FISHER

AUDREY MAE (FISHER) STITH

JOHN STANLEY FISHER, SR., SON OF JOHN HARVEY (1870-1915) AND EVA (DURBIN) FISHER (1873-1967) WAS BORN JUNE 10, 1903 AND REARED IN NEW ALBANY, INDIANA. HIS BROTHERS AND SISTERS WERE: BESSIE, NELLIE, JESSIE, EDNA, ETHEL, BLANCHE, NICHOLAS, MARY, CHARLOTTE, AND MARGARET. HIS GRANDPARENTS WERE: JAMES MADISON FISHER AND NORA ELLEN MORGAN.

ANNA MAE (SMITH) FISHER, DAUGHTER OF THOMAS GRANVILLE (1876-1935) AND HETTIE ELLEN (BOARD) SMITH (1882-1937) WAS BORN NOVEMBER 4, 1907 AND REARED IN THE-MIDWAY-SANDY HILL AREA OF MEADE COUNTY. HER BROTHERS AND SISTERS WERE: MABEL PAULINE, FRED ALBERT, ROBERT HENDERSON, THOMAS EUGENE, CLAUDIA EVELYN, VIRGIL LEE, EVERETT WAYNE AND LENA VIVIAN. HER GRANDPARENTS WERE: ROBERT HOUSTON SMITH, GEORGIA ANN BROWN AND ROBERT
HENDERS0N BOARD, MARY MARTHA 'MATTIE' PREWETT.

STANLEY AND ANNA MAE MARRIED MARCH 3, 1926 IN JEFFERSONVILLE, INDIANA. CHILDREN: BETTY JEAN AUGUST 18, 1926, JOHN STANLEY, JR. (NOVEMBER 19, 1928 - MARCH 25, 1929), AUDREY MAE FEBRUARY 8, 1930 AND JO ANN DECEMBER 25, 1932.

STANLEY, AS A CHILD, WAS AN ALTAR-BOY AT HOLY TRINITY CATHOLIC CHURCH IN NEW ALBANY AND WAS 12 YEARS OLD WHEN HIS FATHER DIED. HE QUIT SCHOOL AFTER THE 8TH GRADE TO HELP SUPPORT HIS WIDOWED MOTHER, THE OTHER CHILDREN AND HIMSELF, ALL LIVING AT HOME. HE MET ANNA MAE WHEN SOME FRIENDS, HER GLAZE COUSINS, TOOK HIM HUNTING AT HER PARENTS FARM. AS A YOUNG MAN HE ENJOYED CAR RACES AND OWNED HIS OWN RACER "THE STANLEY FISHER SPECIAL." AFTER MARRYING HE WORKED FOR SINCLAIR REFINING COMPANY MANY YEARS IN LOUISVILLE AND IN 1941, AFTER T0 NEW ALBANY, HE WORKED AT INDIANA ARSENAL AND ALSO HAD HIS OWN HEATING/AIR-CONDITIONING BUSINESS UNTIL HE PASSED AWAY.

HE ALWAYS ENJOYED TAKING HIS FAMILY TO THE SMITH FARM TO VISIT ANNA MAE'S RELATIVES AND HELP IN PLANTING AND HARVESTING THE CROPS AND PARTICIPATE IN HOG-KILLING TIME. HE LOVED TO HUNT SQUIRRELS, RABBITS AND QUAIL AND GENERALLY CAME HOME WITH LOTS OF GAME AS HE WAS A VERY GOOD SHOT. BEING VERY FOND OF ANNA MAE'S BROTHER VIRGIL, IN 1937 HE BOUGHT THE SMITH FARM AFTER BOTH HER PARENTS HAD PASSED AWAY, AND LET HER THREE YOUNGER BROTHERS, THOMAS, VIRGIL, AND EVERETT, LIVE THERE AND FARM. IN 1945 HE SOLD THE FARM, FOR BY THEN TOM HAD T0 LOUISVILLE, EVERETT HAD MARRIED AND VIRGIL HAD DIED.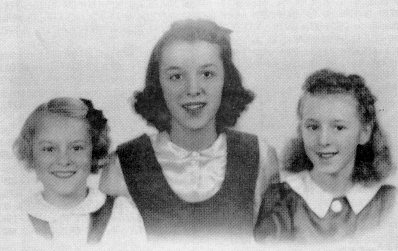 L TO R: JO ANN, BETTY JEAN AND AUDREY MAE FISHER



332 MEADE COUNTY. KENTUCKY
ANNA MAE, GROWING UP. ATTENDED THE SANDY HILL AND NEW HIGHLAND BAPTIST CHURCHES. AFTER THE TENTH GRADE SHE WENT TO LOUISVILLE, LIVING AT SISTER PAULINE'S HOUSE, GOT EMPLOYMENT AND WORKED UNTIL SHE MARRIED AND BECAME A HOUSEWIFE AND MOTHER. OVER THE YEARS SHE ENJOYED SEWING. CROCHETING. QUILTING, HAVING HOUSE-PLANTS THROUGHOUT HER HOME AND BEAUTIFUL FLOWERS IN THE YARD.
AFTER THEY MARRIED, THEY LIVED AT MOM FISHER'S, HIS MOTHER'S TEN ROOM HOUSE AT BANK AND ELM STREET, THE NEW ALBANY POST OFFICE IS NOW LOCATED THERE. WHERE DAUGHTER BETTY JEAN. WHO ONLY WEIGHED TWO AN ONE-HALF POUNDS, WAS BORN. LATER THEY MOVED TO LOUISVILLE WHERE STANLEY. JR.. AUDREY AND JO ANN WERE BORN. THEY LOST EVERYTHING IN THE 1937 FLOOD. SAVING ONLY THE CAR. STANLEY'S BIRD DOG AND THE CHILDRENS BULLDOG 'TRIXIE.' WATER ALMOST COMPLETELY COVERED THE HOUSE AND MUD WAS A FOOT THICK ON EVERYTHING AFTER THE WATER RECEDED. THEY THEN MOVED TO A NEW HOUSE ON CLARA AVENUE WHERE THEY LIVED THE NEXT FOUR YEARS. DURING THIS TIME STANLEY JOINED THE CARLISLE AVENUE BAPTIST CHURCH, WHICH THE FAMILY ATTENDED.
IN 1941. AFTER RENTING FOR 15 YEARS. THEY PURCHASED A HOME IN NEW ALBANY AND MOVED THERE. THEIR OLDEST GRANDDAUGHTER. DEBORAH ANN WADE, ALSO LIVED HER EARLY CHILDHOOD WITH THEM. THEY CONTINUED TO LIVE THERE UNTIL EACH PASSED AWAY, HE ON MAY 20. 1960 AGE 56 AND SHE ON OCTOBER 25, 1962 AGE 56. STANLEY AND ANNA MAE ARE BURIED AT GRACELAND CEMETERY IN NEW ALBANY.

THOMAS J. AND AUDREY MAE (FISHER) STITH
AUDREY MAE (FISHER) STITH
THOMAS J. STITH, SON OF WILLIAM ALLEN SR. (1871-1960) AND LENA MARION (DRURY) STITH (1872-1964) WAS BARN FEBRUARY 5. 1915 AND REARED ON HIS PARENTS FARM IN STITH VALLEY, MEADE COUNTY. BROTHERS AND SISTERS WERE: WILLIAM ALLEN JR., BLANCHE DRURY, GEORGE LEWIS AND CORNELIA MAE. HIS GRANDPARENTS WERE: THOMAS JEFFERSON STITH. HANNAH CHASE WILLIAMS AND THOMAS JOSEPH DRURY, SARAH MARION WISEHART.
AUDREY MAE (FISHER) STITH, DAUGHTER OF JOHN STANLEY, SR. (1903-1960) AND ANNA MAE (SMITH) FISHER (1907-1962) WAS BORN FEBRUARY 8, 1930 IN LOUISVILLE, KENTUCKY AND REARED IN LOUISVILLE AND NEW ALBANY, INDIANA. HER BROTHERS AND SISTERS WERE: BETTY JEAN, JOHN STANLEY, JR., AND JO ANN. HER GRANDPARENTS WERE: JOHN HARVEY FISHER/EVA DURBIN AND THOMAS GRANVILLE SMITH/HETTIE ELLEN BOARD.
THOMAS J. AND AUDREY MET ON A TRAIN GOING TO THE BILLY GRAHAM CRUSADE IN NEW YORK IN 1957. THEIR FIRST DATE WAS RIDING IN HIS BOAT ON THE OHIO RIVER, TAKING MOVIES AND PICNICKING AT OTTER CREEK PARK. THEY MARRIED AUGUST 14, 1960 AT THE CULBERTSON AVENUE BAPTIST CHURCH IN NEW ALBANY. THEIR CHILDREN WERE: THOMAS MITCHELL JANUARY 5. 1962; JOHN WHITNEY AUGUST 28, 1963; STANLEY KEVIN NOVEMBER 9, 1964; JEFFREY ALLEN JUNE 15, 1966 AND KYLE LEIGHTON FEBRUARY 7, 1968.
THOMAS J. ATTENDED THE ONE-ROOM SHUMATE SCHOOL LOCATED ON HIS FARM AND HE BOARDED IN BRANDENBURG WHILE ATTENDING MEADE COUNTY HIGH SCHOOL, GRADUATING IN 1934. AFTER ATTENDING SPENCERIAN BUSINESS COLLEGE SEVERAL MONTHS, HE RETURNED HOME TO FARM WITH HIS FATHER AND BROTHER RALPH, AND IN 1936 THEY ALSO STARTED THEIR 0WN SEED-CORN BUSINESS. AFTER THEIR FATHER RETIRED, BOTH CONTINUED FARMING TOGETHER AND IN 1976, HAVING BOUGHT OUT THE OTHER HEIRS, THEY DIVIDED THE FARM AND CATTLE HERD. THOMAS J.'S SONS NOW HELP HIM ON THE FARM.
HE HAS ALWAYS ENJOYED SPORTS, HUNTING, FISHING AND CAR RACES AND OFTEN GOES TO ANTIQUE FARM EQUIPMENT SHOWS. HE OWNS TWO JOHN DEERE TRACTORS 1931 AND 1939, PRESENTLY BEING RESTORED AND A RESTORED 1950 DE S0T0 CAR. IT ONLY HAS 60,000 ACTUAL MILES ON IT. HE IS PRESENTLY A DIRECTOR, OFFICER OR BOARD MEMBER OF SEVERAL COMPANIES, BESIDES BEING AN ACTIVE MEMBER IN BEWLEYVILLE MASONIC LODGE #228.
AUDREY'S PARENTS MOVED TO NED ALBANY IN 1941, AND SHE FINISHED SCHOOL THERE, GRADUATING FROM NAHS 1948. SHE ATTENDED THE UNIVERSITY OF KENTUCKY 1948-49. SHE WORKED AT INDIANA ARSENAL NINE YEARS BEFORE MARRYING. SHE ENJOYS 'FARM LIFE' AND HELPS IN KEEPING THE CATTLE AND FARM RECORDS BESIDES BEING A HOUSEWIFE AND MOTHER. SHE OWNS SEVERAL PIECES OF ANTIQUE FURNITURE AND A 1938 SHIRLEY TEMPLE DOLL. HER FISHER ANCESTORS WERE CHENOWETH'S 1682 AND CALVERT'S 1637, THE 3RD LORD BALTIMORE, WHO CAME FROM ENGLAND AND SETTLED IN VIRGINIA AND MARYLAND BEFORE COMING TO KENTUCKY.
THEIR CHILDREN ALSO ENJOY SPORTS, HUNTING, FISHING, WATER SKIING AND JET SKIING. MITCHELL, KEVIN, AND JEFFREY LIVE AT HOME AND ARE EMPLOYED OUTSIDE THE FARM. WHITNEY GRADUATED IN 1989 FROM THE UNIVERSITY KENTUCKY WITH DEGREES IN AG ECONOMICS AND ACCOUNTING AND IS EMPLOYED AT INDIANA FARM BUREAU, CINCINNATI AS A GRAIN-BUYER AND HOPES TO PASS THE CPA EXAM. KYLE GRADUATES IN 1990 FROM THE UNIVERSITY OF KENTUCKY WITH AN ACCOUNTING DEGERE. ALL GRADUATED FROM MCHS, AND LIKE THEIR PARENTS, ARE MEMBERS OF HILL GREOVE BAPTIST CHURCH.
THE OLD STITH HOUSE WHERE THEY LIVED BURNED IN 1980 AND NEARLY EVERYTHING WAS LOST. THOMAS J. AND AUDREY THEN BUILT A NEW BRICK HOME IN THE SAME LOCATION WHERE THEY RESIDE IN STITH VALLEY FARMS, BOX 271-A, GUSTON, KENTUCKY. IT IS HOPED THE FARM WILL EVENTUALLY BE OWNED BY ONE OF THEIR SONS, KEEPING IT IN THE FAMILY FOR MANY YEARS TO COME.



THOMAS J. AND AUDREY STITH AND THEIR FIVE SONS: MITCHELL, WHITNEY, KEVIN, JEFFREY AND KYLE - 1987

334 MEADE COUNTY, KENTUCKY
WILLIAM ALLEN, SR. AND LENA MARION (DRURY) STITH
AUDREY MAE (FISHER) STITH
WILLIAM ALLEN STITH, SR., SON OF THOMAS JEFFERSON (I841-1921) AND HANNAH CHASE (WILLIAMS) STITH (I849-1930) WAS BORN AUGUST 2, 1871 AND REARED AT HIS PARENTS FARM IN STITH VALLEY. HIS BROTHERS AND SISTERS WERE IRENE BUCKNER, SAMUEL HENRY, JAMES STROTHE, KAVANAUGH ARVIN, MABLE CLARK, LEONARD THOMPSON, MARY RACHEL, THOMAS ENFIELD, HANNAH WIVIE AND FRED PAUL. HIS GRANDPARENTS WERE: HENRY STITH/MARY ANN STITH AND SAMUEL BEST WILLIAMS/RACHEL TAYLOR.
LENA MARION (DRURY) STITH, DAUGHTER OF THOMAS JOSEPH (1828-1880) AND SARAH MARION (WISEHART) DRURY (1833-1882) WAS BORN OCTOBER 20, 1872 AND REARED AT HER PARENTS FARM, BEWLEYVILLE. HER BROTHERS AND SISTERS WERE: CHARLES HIRAM, CARRA W.. LILLIE AND WILLA. HER GRANDPARENTS WERE: THOMAS JAMES DRURY/NANCY WILLA STITH AND WILLIAM A. WISEHART/PHOEBE LUTZ.
ALLEN AND LENA MARRIED MARCH 9, 1902 IN THE BEWLEYVILLE METHODIST CHURCH. THEIR CHILDREN WERE: WILLIAM ALLEN JR. (FEBRUARY 22, 1903 - FEBRUARY 1, 1957), BLANCH DRURY OCTOBER 29, 1904, GEORGE LEWIS MARCH 19, 1907, RALPH OGDEN (OCTOBER 25, 1909 - OCTOBER 9, 1987), THOMAS J. FEBRUARY 5, 1915 AND CORNELIA MAE MAY 7, 1918.
ALLEN ATTENDED THE ONE ROOM SHUMATE SCHOOL ON THOMAS J.'S FARM, AND THE TEACHERS NORMAL SCHOOL, HARDINSBURG, LATER TEACHING AT HITES RUN AND GLEN DEAN. HE BOUGHT HIS FIRST OF FARM 375 ACRES IN 1899. A HIRED HAND HELPED HIM FARM AND THEY BATCHED. HE WAS ELECTED MEADE COUNTY'S STATE REPRESENTATIVE IN 1900-1902 AND WAS SERVING HIS TERM IN FRANKFORT WHEN GOVERNOR GOEBEL WAS SHOT AND KILLED. HE AND LENA RETURNED TO HIS FARM WHERE THEY LIVED THE REST OF THEIR LIVES.



THOMAS JEFFERSON AND HANNAH CHASE STITH AND THEIR ELEVEN CHILDREN
FRONT L TO R: SAMUEL HENRY, IRENE BUCKNER, THOMAS JEFFERSON, HANNAH CHASE, WILLIAM ALLEN, SR, JAMES STROTHER
BACK L TO R: KAVANAUGH ARVIN, MABEL CLARE, LEONARD THOMPSON, MARY RACHEL, THOMAS ENFIELD, HANNAHJ WIVIE, AND FRED PAUL


GENEALOGY 335
HE SOON BUILT A NICE BARN, WITH THE HELP OF LENA'S $500. AS THEY PROSPERED THEY LATER PURCHASED ADJOINING FARMS AND LAND. HE RAISED HEREFORD CATTLE AND LATER POLLED HEREFORDS, AFTER BUYING HIS FIRST POLLED BULL IN 1925. HE PURCHASED HIS FIRST AUTOMOBILE, A CHEVROLET, IN l918 AND HIS FIRST TRACTOR IN 1923. OVER THE YEARS, NEW TRACTORS AND OTHER MODERN FARM MACHINERY EQUIPMENT REPLACED THE MULES, HORSE AND BUGGY AND OTHER INADEQUATE MACHINERY.
HE BECAME INTERESTED IN GENEALOGY AND COLLECTED MANY ARTICLES ON HIS ANCESTORS AND RELATIVES, LEARNING HIS STITH ANCESTORS TRACED BACK TO VIRGINIA, SETTLING THERE BEFORE 1652 AND ENGLAND. ONCE, AFTER CORRESPONDING WITH A STITH MAN, HE ALMOST CLAIMED KIN, ONLY TO FIND OUT THAT THE MAN WAS COLORED, PROBABLY A STITH SLAVE. ALLEN WAS ALWAYS ACTIVE IN CHURCH, LOCAL AND GOVERNMENT AFFAIRS AND ENJOYED POLLED HEREFORD CATTLE SHOWS. HE AND SONS RALPH AND THOMAS J. WHO FARMED WITH HIM, RAISED AND SHOWED THE GRAND-CHAMPION HEIFER AT THE 1948 KENTUCKY STATE FAIR. AFTER HE RETIRED, RALPH AND THOMAS J. CONTINUED THE FARMING AND CATTLE OPERATION. HE LOVED TO ATTEND HOMECOMINGS AND REUNIONS. ALLEN WAS A LIFE-LONG MEMBER OF HILL GROVE BAPTIST CHURCH, WHERE HIS CHILDREN WERE ALSO MEMBERS, BUT THE FAMILY OFTEN ATTENDED LENA'S CHURCH AT BEWLEYVILLE.
LENA'S PARENTS BOTH DIED WHEN SHE WAS A CHILD, SO SHE WAS REARED BY HER BROTHER CHARLES AND HIS WIFE. SHE ATTENDED THE ONE ROOM BEWLEYVILLE SCHOOL AND THE NORMAL SCHOOL ALSO. SHE TAUGHT SCHOOL SEVERAL YEARS BEFORE MARRYING AND BECOMING A HOUSEWIFE AND MOTHER. SHE WAS A LIFE-LONG MEMBER OF BEWLEYVILLE METHODIST CHURCH. WHICH WAS FOUNDED WITH THE HELP OF HER GRANDPARENTS.
DUE TO CHANGING TIMES AND THE NEED FOR MODERN CONVENIENCES, THEY REMODELED THE HOUSE SEVERAL TIMES. BOTH W0RKED HARD ALL THEIR LIVES AND WERE WELL RESPECTED AND LOVED BY ALL WHO KNEW THEM. ALLEN PASSED AWAY NOVEMBER 25, l960 AGE 89 AND SHE JANUARY 9, 1964 AGE 91. BOTH ARE BURIED AT EKRON BAPTIST CHURCH CEMETERY.


MEADE COUNTY STITHS AND STITH VALLEY
HAROLD STITH
THE FIRST STITHS TO SETTLE MEADE COUNTY, THEN HARDIN, WERE WILLIAM STITH AND RICHARD STITH, JR., SONS OF RICHARD STITH SR., OF BRUNSWICK COUNTY, VIRGINIA. IN 1805, THEY CAME TO BIG SPRING AND NORTH AND WEST OF THERE ABOUT THE SAME TIME AS THE FAMILIES OF JONES, HARDAWAYS, SHUMATES AND OTHERS.
WILLIAM STITH AND HIS WIFE SETTLED IN A VALLEY NEAR WHERE WALTER AND DELENE SCOTT NOW LIVE AND CLOSE TO


336 MEADE COUNTY, KENTUCKY
THE GIL WRIGHT PLACE WHERE NETTIE YOUNG NOW RESIDES. THESE PEOPLE AND THE THOMAS J. STITH AND RALPH STITH FAMILIES ARE THE ONLY DESCENDANTS STILL LIVING IN STITH'S VALLEY. THE GREAT GRANDPARENTS OF THESE PRESENT FAMILIES, HENRY AND MARY ANN STITH, LIVED ON THE WRIGHT PLACE AND ARE BURIED THERE. THEY WERE THE PARENTS OF MY GRANDFATHER THOMAS JEFFERSON STITH. HIS SISTERS, NANCY, MARRIED GILBERT WRIGHT, AND ROSIE MARRIED WILLIAM SHUMATE. THESE FAMILIES ALONG WITH THE SCOTTS, LIVED IN THE VICINITY.
THOMAS JEFFERSON STITH WAS A CIVIL WAR SOLDIER. HE MARRIED HANNAH C. WILLIAMS, WHO LIVED NEXT DOOR, AND REARED ELEVEN CHILDREN ON A FARM HE PUT TOGETHER WITH LAND BOUGHT FROM TAYLOR, JONES AND SHUMATE. THESE CHILDREN GREW UP AND MARRIED LOCAL PEOPLE AND RAISED THEIR FAMILIES IN MEADE COUNTY.
SOME OF THESE CHILDREN WERE W.A. STITH MARRIED LENA DRURY OF BEWLEYVILLE AND LIVED IN STITH VALLEY; THOMAS E. STITH MARRIED DONA MILLER OF BLACK JACK AND LIVED ON HIS FATHER'S HOMEPLACE IN STITH VALLEY; SAMUEL STITH MARRIED MABEL COLEMAN AND LIVED AT EKRON; ARVIN STITH MARRIED NANCY HICKS AND LIVED AT EKRON; RACHEL STITH MARRIED RAY KEITH AND LIVED AT BEWLEYVILLE. THE OTHERS LIVED WITHIN TRAVELING DISTANCE GENERALLY.
MOST OF THEM FARMED ALONG WITH OTHER PROFESSIONS OR TRADES THEY HAD AND WERE A GOD-FEARING, CHURCH-GOING PEOPLE WITH STRICT MORAL STANDARDS.
THERE ARE NUMEROUS OFF-SPRING OF THESE ELEVEN CHILDREN OF THOMAS JEFFERSON AND HANNAH WILLIAMS AND THEY ARE SCATTERED ALMOST FROM COAST TO COAST OF THE UNITED STATES.
MY IMMEDIATE FAMILY LIVES IN THE SAME VICINITY WE GREW UP IN AND MARRIED LOCALLY AND UNTO THE THIRD GENERATION, ALL ARE NEARBY.
I AM THE OLDEST AND ONLY SON OF THOMAS E. AND DONA (MILLER) STITH. I MARRIED JUANITA SIMPSON, DAUGHTER OF GUY AND MINNIE SIMPSON WHO LIVED AT EKRON. WE HAVE THREE SONS, BRUCE OF BRANDENBURG, GREGORY AND MICHAEL OF EKRON ROUTE. JUANITA DIED IN 1974. I HAVE TWO SISTERS ELIZABETH, WHO IS SINGLE, RETIRED AS A PROFESSIONAL NURSE AND LIVES ON EKRON ROUTE, AND HELEN THOMAS, WHO MARRIED HAYES LEROY PRATHER, SON OF W.T. AND IDA PRATHER; THEY HAVE TWO CHILDREN: STEVEN DOUGLAS OF BRANDENBURG, AND PAUL DAVID OF EKRON ROUTE.
THERE ARE OTHERS OF THOMAS JEFFERSON'S CHILDREN AND THEIR IN-LAWS WHO INCLUDE MOREMAN, SHIPPS, FOUNTAINES AND OTHERS TOO NUMEROUS TO MENTION IN 500 WORDS BUT IT COULD BE HARDLY POSSIBLE TO FIND ANYONE WHO 1S NOT RELATED IF ONE LOOKS FOR IT.